Kallapam is a kind of rice pancake prepared using 'Kallu' and is a typical Kerala Syrian Christian dish. It is one of the breakfast items in Kerala.
Raw rice 3 cup
Rice 1/2 cup
Water 1 cup
Salt 1/2 teaspoon
Sugar 2 1/2 tablespoon
Toddy (kallu) 1 cup
Scraped coconut 3/4 cup
Small onions 6 nos
Cumin seeds 1/2 teaspoon
Garlic 2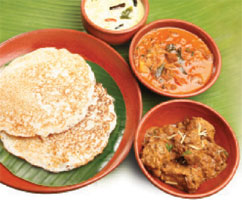 After soaking raw rice for about 3 hours in water, grind it along with rice and water. Then add sugar, toddy and keep it aside for 7 hours. Grind onion, garlic, cumin seeds and coconut and pour it into the mixture. Add needed salt and keep it aside for 10 minutes. In a pan, spread oil, spread the batter. Turn it on both sides till it is cooked.